Android Pie the newest version of Android is rolling out with some promising new features. Google has introduced a lot of cool new tricks that will change the way you make use of your android phones.
These changes are welcome additions as compared to last few versions of Android which brought mostly small tweaks to its structure. Mobile app development looks brighter with the introduction of Android Pie
Android Pie will roll out in slow progression to multiple devices in the coming months due to Android's fragmentation, and will not look the same on every device. A different look for different devices.
If you are looking forward to upgrading Android App Development or you've already done it, let's look at the new features Android Pie has to offer
1. New Gesture Navigation
Older versions of Android use a standard three-button navigation bar at the bottom of the screen. His has stayed the same for ages. But in Android Pie, you have the option to drop the standard Back, Home, and Recent buttons and instead use a new gesture-based navigation system.
Upcoming Android devices will have this feature enabled by default, but for your current update, you'll still see the old buttons. If you want to try the new gesture-based navigation go to Settings > System > Gestures > Swipe up on Home button. You will see your navigation bar change.
You can navigate the new setup using the following guidelines:
• Just tap the pill-shaped Home button jump back to home from any page.
• The Back button will appear at its regular place.
• To open recently used apps Swipe up on the Home button. You can move left and right to navigate the list, and just swipe up to kill a recent app. To see the Split Screen option Press and hold an app's icon. You can even select and copy the text in split screen mode.
• To open the app drawer Swipe up on the Home button twice
• A new way of scrolling between apps just Swipe right and hold on Home to scroll between apps and release the home button to open the one in focus.
• To switch to a previous app Swipe right quickly and release.
• Google assistant is where it was before just Press and hold the Home button.
This new gesture navigation may take getting used to, but the new features offer smoother navigation compared to the previous style.
2. Adaptive battery and Brightness
Android already has a lot of automated features, and a few important ones are getting better in Pie.
Adaptive Battery is an extension of the Doze feature presented in Android 6 Marshmallow. Doze put applications that you weren't utilizing into a "deep sleep" to keep them from squandering battery.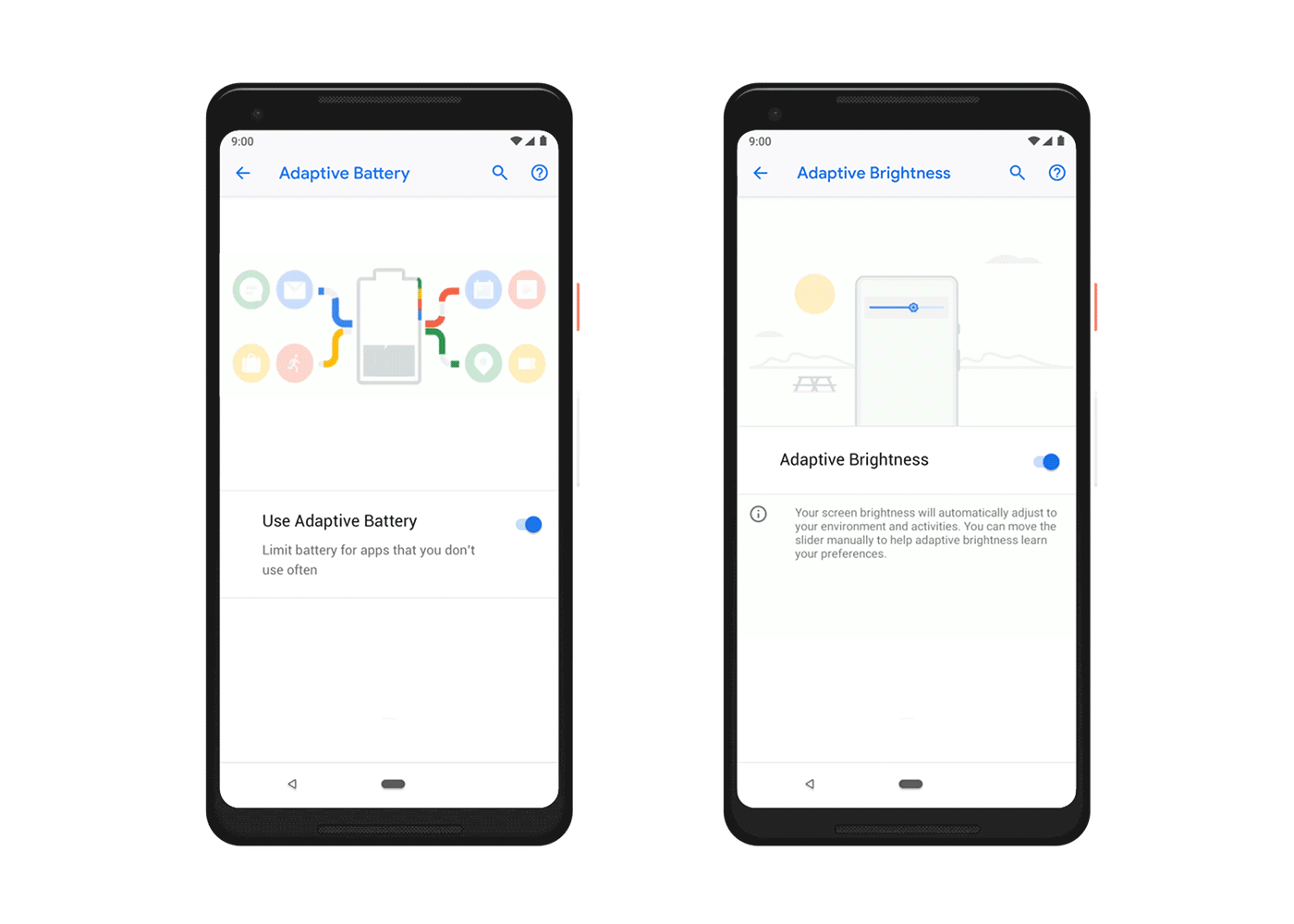 Presently, Adaptive Battery goes forward by finding out about the applications and services you utilize regularly, and changing what apps you don't use to utilize less battery. Android app development can make good use of this in new display oriented apps.
Although this is enabled by default, you can turn it on/off from Settings > Battery > Adaptive Battery. Note that if you use the Adaptive battery you may get delayed notifications for apps you don't use often.
Even automatic brightness is Android is getting an upgrade in Android Pie. Now, your phone will be able to study and learn the brightness levels you prefer in particular apps and environments to automatically adjust it later.
3. App Actions
In the earlier versions Google's launcher was already able to predict the apps you use mostly based on daytime. IN Android Pie you get the App Actions predicts what you want to do by letting you quickly start tasks.
For example, App Actions will show you a shortcut to start Google Maps navigation to work or gym or wherever you go early morning. You might see an App Action to communicate with your friends or coworker on your preferred apps like Whatsapp or Hangout.
And it will also show recent playlist Action when you plug in headphones. Mobile app developers can make new actions to help their app be more interactive.
These App actions are similar to the ones you get by long-pressing app icons, which is quite similar or even inspired by 3D Touch on the iPhone.
4. Slices
Just like App Actions, Slices help you to jump right to in-app actions directly. Mobile app developers better make use of slices to make their app stand out.
5. Improved Security
Most Android Pie's security upgrades are not directly visible but stay under-the-hood. Android Pie restricts Apps access to a camera, mic, and all sensors from apps that are idle as specified by Google.
So even if you grant an app permission to access these options, it will not be able to do so unless the app is actively being used. A new lockdown mode introduced in Android Pie makes your phone more secure in emergency situations.
Once you enable this from Settings > Security & location > Lock screen preferences > Show lockdown option, just tap Lockdown on the Power menu to activate it. This will lock your phone instantly.
It will disable the Smart Lock and fingerprint unlocking and will hide Lock screen notifications. You will need PIN, password, or a pattern to unlock your phone, basic information that stays inside your head.
6. New Accessibility Menu
Previous versions of Android had a lot of accessibility features, but it was not easy to access them. Android Pie offers a new menu which makes it simple to access common functions.
You can enable this menu from the settings tab. Go to Settings > Accessibility > Accessibility Menu and Turn on the Use service slider, you will see a prompt, confirm it and a new icon will appear to the right of the navigation bar. You can tap the button a large menu will pop-up with shortcuts to Recent apps, Volume, Quick Settings, and more.
7. New screenshot shortcut
The previous Power + Volume Down button was a pretty uncomfortable combination. Android Pie, makes it very easy, just press the Power button to access the screenshot shortcut.
8. Volume and Sound Improvements
The volume slider now appears on the right side in Android Pie instead of the top. And for a change and good one at that is by default volume buttons changes the Media volume now instead of the Ringer volume. This volume tweak will make it easier avoiding playing a video and accidentally playing it at a loud volume.
You can now just tap the Note icon and mute or unmute audio. Just tap the icon above and toggle Calls volume between Vibrate, Ring, and Mute. To access the sound menu select the Gear icon and make adjustments.
9. Selectable Dark Mode
Android Oreo automatically decided between the dark and white theme as per the wallpaper. Android Pie offers the customization to choose for yourself, just go to Settings > System > Display > Advanced > Device theme.
These are just top features, various other features exist in the new OS. At present, you can work your way around and keep discovering. More detailed help will follow soon.
Related Article:
Should you build an iOS app or an Android app?
Please follow and like us: