Magento is leading the e-commerce web development market
WordPress dominates the Content Management System market and is clearly the best of the available platforms. About 20 to 25 percents of websites in the world are built using WordPress. Therefore, in the world of E-commerce websites, Magento is 'second to none' e-commerce web development platform for eStores, and also indeed the most popular one out there!
The enterprises are excited to have their eStore to facilitate their customers with an easy purchase of goods, also services at just a click of a button!
What is E-commerce?
Wikipedia defines 'E-commerce' as – 'the activity of buying or selling of products on online services or over the Internet.'
Oxford Dictionaries defines 'E-commerce' as – 'any commercial transaction conducted electronically on the Internet.'
Merriam Webster defines 'E-commerce' as – 'any commercial activity conducted via the Internet.'
Why is e-commerce booming?
The world of Retailing is undergoing a paradigm shift with the dominant emergence of E-commerce. There are many reasons for the same; however, the most prominent one is the fact that the younger generations are tech-savvy which helps them to operate the smartphones pretty efficiently. They use these smartphones effectively to reduce their efforts. Therefore,  they have enjoyed buying things courtesy e-commerce website because they believe that it is the laziest way of purchasing goods and services!
Around the Globe:
E-commerce is changing the psyche of consumers by spoon feeding them the items they want to buy. Earlier consumer had to personally visit the place of the commodity to able to buy it. E-commerce has provided consumers with luxury to shop on the internet. Furthermore, consumers get to see the pictures of the thing they are looking to buy. Moreover, they also get to view the feedback, ratings, and reviews about a product which helps them to decide about whether to proceed with the action of purchasing or not!
Markets of Europe, the USA, India, and China, are fast turning their traditional, old-school way of commerce into the modern media which is 'e-commerce'. It is quickly becoming the preferred shopping method for many people.
Source: distribucionactualidad
Examples of e-Commerce websites are Amazon, Flipkart, OLX, even more Quikr, Snapdeal, Jockey Official, Nike official, etc.
Every website which facilitates the buying or selling of goods or services at the expense of money is an e-commerce website.
Other few examples of e-commerce websites that are built in Magento by PHP developers are as followed:
• Xiaomi: A mobile gadget manufacturing company based in China.
• Samsung: A mobile gadget manufacturing giant from Korea that has captured the mobile market across the Globe.
• Selco: An e-commerce platform meant to assist the customers with hardware accessories and also interior rejuvenation material!
• Radley London: UK based manufacturer of purses and party-wear bags!
More Examples of e-commerce websites:
• Oliver Sweeney: A shoes manufacturing company.
• Adidas: An international brand of clothing generally sports related.
• Nike: A global brand of sports clothing.
• Ford: Founded by Henry Ford in the year 1903, it is a leading manufacturer of luxury vehicles.
• Fred Perry: A manufacturer of tracksuits and gym outfits.
• Lenovo: Laptop, Desktop, Mobile manufacturers. The giant in the field of gadget manufacturing!
• Land Rover: They manufacture leather jackets and jackets of all sort!
Even More Examples of e-commerce websites:
• Pepe Jeans: They produce jeans trousers.
• Sergio Rossi: A footwear manufacturing company for women.
• Bjorn Borg: An emerging brand of sports-related clothing.
• Liverpool FC: An official eStore of Liverpool Football club affiliated to the English Premier League in the UK.
• Vizio: The maker of the top-selling HDR TVs, 4KTVs. also they are USA's No.1 Brand for Sound Bars.
• Nestle: It is the world's one of the biggest food and beverage company. Generally, Nestle is known for its dairy products and also preserved food products!
And there are millions of other commercial enterprises which have got their eStores built using Magento. Therefore, commercial enterprises ranging from medium to large size prefer Magento for some reason!
What the UK says about growing demand for E-commerce websites?
A PHP developer who works on Magento platform for a web development company in the UK was asked a question that whether there the buzz being real of e-commerce websites. To which he quickly conveyed that there is an increasing demand in the business world for eStores.
Source: we are social
The entrepreneurs want their business to reach people with ease. Similarly, what could be the better medium than a website and a mobile app to reach to the customer base or potential customers?
Commercial retailers, whole-sellers, and even more people are approaching web development companies across the UK for getting their e-commerce website (eStore) built.
A study carried out in the country speaks for the growing demand of e-commerce website, therefore a web development agencies hiring web developers who are expert in developing eStores!
Advantages of using Magento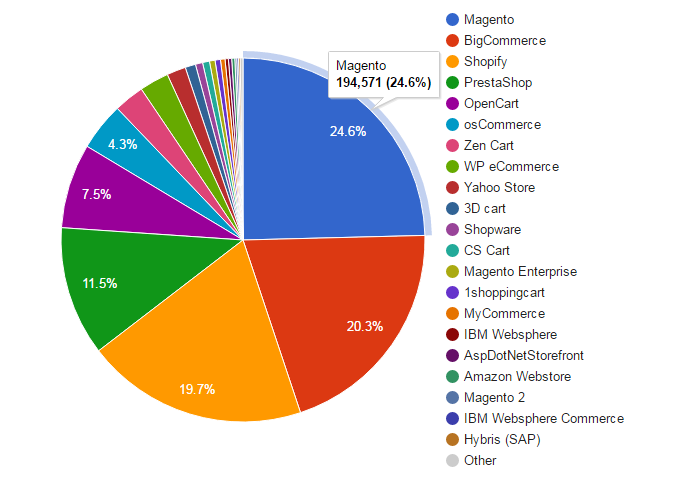 Source: datanyze
• Magento provides enterprises with a brilliant eStores which are user-friendly and simple user interfaces.
• The easy flow of process: Consumers or customers have to follow the simple and similarly, sweet step-by-step process for purchasing their desired product or services. Similarly Magento have helped them get easy!
• SEO oriented:
'Magento SEO' has helped solve many bugs by encouraging better SEO of e-commerce sites.
• Database Administration: Magento has rejuvenated the clumsy process of managing multiple stores with its unique product catalogs. It has made it into a smooth and also  stress-free process for 24×7 hours.
• Scalability:
Keeping an eye on future, Magento built to scale from 1 to a million users.
• Developers Friendly: With the ever-upgrading web development technologies and also expectations in the world, Magento makes it incredibly easier for the PHP developers to update content, or add pages to the website and also correspondingly link those pages to the relevant pages.
• Mobile Version: In the dominant era of mobile smartphones, Magento Mobile helps app developers to suffice the consumers with excellent user experience and also interface, as people use their smartphones to carry out e-commerce activities!
Please follow and like us: